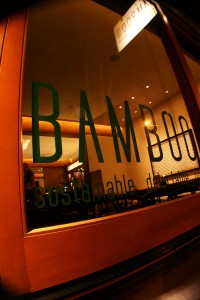 Phoogoo and sushi, a match made in heaven. When we were approached by Bamboo Sushi to build a new website for them, it felt like Christmas. Now the site is live and it feels like Christmas again!
Bamboo Sushi is the first certified, sustainable sushi restaurant in the world. Daily, they strive to bring you the freshest fish, meats, and produce with the greatest consciousness to marine stewardship, sustainability, and the environment. Big promises to make, but they always deliver.
Built on WordPress, the new Bamboo Sushi site is easy to navigate and easy to manage on the back end. Our client can update the menu items and content with ease, one of the reasons we love WordPress. When you have some time, poke around the online menu. Here you can see exactly what each menu item is made of and where it comes from.  Pretty cool, if you ask us. Don't forget to check out the videos on the home page, either. Joe Sabia created the "Story of Sushi" video, it is a must watch. Our video partner, Matt Miadich of DropTree Productions, created the other videos and they are very well done as well. Go check them out!
Once you are done checking out the site, go get yourself some sushi!