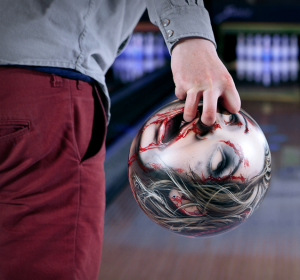 At this time of year, Phoogoo is usually bowling away, every Thursday night, on a mission to bring home the 6 foot tall Ad League Bowling trophy. Sadly, that is not the case this season. With a growing office, a growing client list and too many commitments on the calendar – we had to skip this season. And we miss it. The music, the folks, the tequila…Thursdays are just not the same. Friday mornings may be easier, but Thursdays are not the same.
The good thing about our hiatus from Ad League Bowling? We are able to rest our wrists, our livers are happier and most importantly, we can spend time shopping for the coolest bowling swag. There may be no cooler bowling swag, than a badass bowling ball. And, no bowling ball more badass than these hand painted balls from 13th Street. Whoah.
Zombie balls for Ad League Bowling 2013? YES, PLEASE!